I was invited to create a five-page comic for an anthology that tells the history of the American women's suffrage movement in graphic novel form. The anthology, which has been published by Little Red Bird Press, was successfully funded on Kickstarter in May 2020. You can order the book here. Its publication coincides with the 100 year anniversary of the passage of the 19th amendment.
Through my research for the project, I learned that the movement was not as easy or straightforward as I was taught in school. The suffragists were seen as a "distraction" from the more pressing issue of World War I, and this gave those in power license to trample on activists' civil liberties. My five pages cover a dark segment of the movement known as the Night of Terror.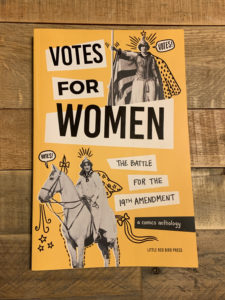 Ally Shwed, the editor and visionary behind this project, has thoughtfully included many oft-forgotten narratives in this book. For example, although there were many people of color active in the movement, the 19th amendment only gave white women the right to vote.
32 womxn artists have contributed to the project, and 5% of the proceeds from book sales will go to She Should Run, a non-profit supporting women who want to enter public office.
"Votes for Women: The Battle for the 19th Amendment" is out now as an e-book and in print! You can buy your copy here.
The Night of Terror
Psst… you can buy the whole book here.