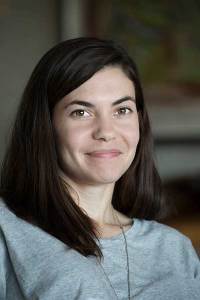 I see myself as a scribe who captures the absurdity of daily life and turns it into comics. Since 2013, I have self-published three mini-comics, about bad dates and strange naps and a 4-part zine series about my hometown of Phoenix, AZ.  From February 2016 to January 2018 I drew a weekly webcomic called Urbanity Planet. One of my cartoons was featured in The Guardian's "10 of the best gentrification cartoons", my bad dates/ coming of age comics were profiled in Issue 6 of Driftless Magazine and my work has been reviewed in Broken Pencil Magazine and the Comics Alternative podcast. I've exhibited at the Small Press Expo, the East London Comics and Arts Fest, and the Pittsburgh Zine Fair, as well as selling my books and greeting cards at shops all over the world.
My other full time job is as a user experience design researcher for a healthcare tech company where I have worked on VUI for physicians.  Previously, I have worked as a UX designer at a tech start up and have advocated for community sustainability and literacy at Chicago non-profits. As a freelance illustrator and comics artist, I have been privileged to work with organizations like Lenny Letter, InfusionSoft, Illinois Legal Aid Online and the Experimental Station.
Let's be friends on the internet!  I have a snarky alter-ego on Twitter, an Instagram, a Tumblr and an occasional email newsletter – sign up below!