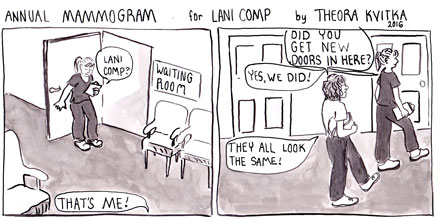 Last month I had a contest where anyone who signed up for my email newsletter was entered in a drawing… for a drawing!  The winner received a free, 6-panel comic drawn by me about a story from their own life.
The winner of the March 7th drawing was Lani Comp! Lani is an educator, but her story is about the awkwardness of a doctor's visit.
Congratulations, Lani!
Although I'm not running another contest right now, you can always sign up for my newsletter and receive scintillating content: unreleased comics, upcoming projects, pre-sales on minicomics, and more!
Have a story that MUST be told in comic form right now? The winner of the first contest round, Emelio DiSabato, had this to say about working with me:
Theora distilled my convoluted story into a gut-wrenching, hard-hitting, veritable haiku of a comic. What a pro!
Let me transform your story into a tour-de-force!