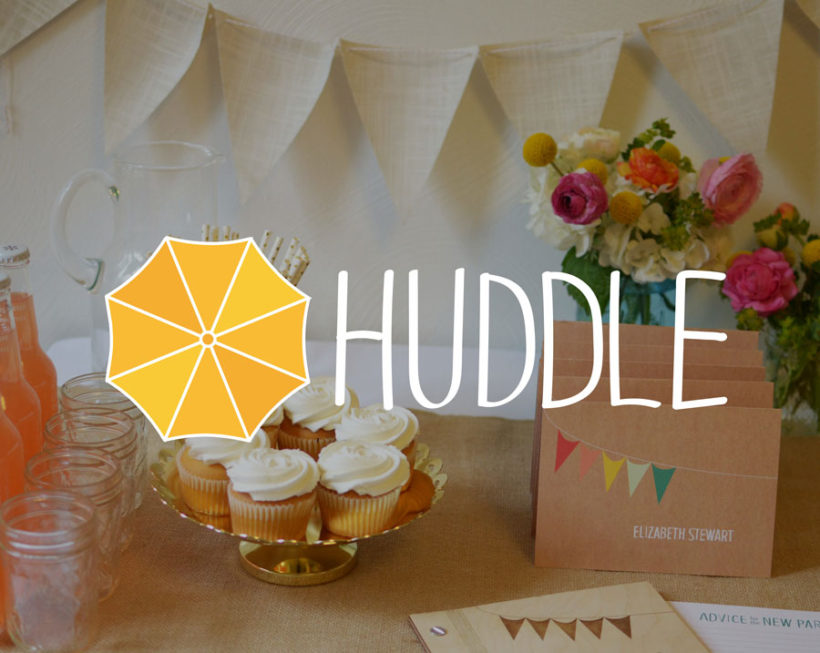 Context
The following documents the final Interaction Design Studio project at Carnegie Mellon University's Masters of Design program. The professors were Ashley Deal and Raelynn O'Leary.  This seven week project was a team effort with myself, Lauren Miller and Monica Looze.
Brief: Design a product ecosystem that extends beyond the screen. Your solution must include multiple touchpoints across multiple channels (e.g., screen-based technology, physical goods, wearables, ambient indicators, wayfinding/signage systems, other print materials, and/or service-oriented interactions between people). These components must work together in supporting a user or community of users as they attempt to achieve some practical goal.
Overview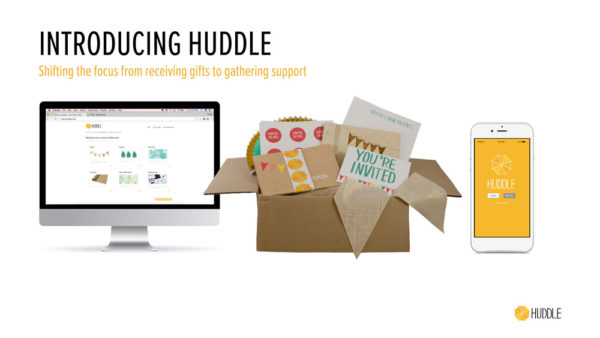 Huddle is a three part system consisting of a website, an app, and a toolkit to help new parents throw a Huddle instead of a traditional baby shower. The system transitions the traditional baby shower from event about material items to an event about gathering and organizing support for new parents.
Concept Video
Ecosystem Components: The Website
The primary purpose of the Huddle website is to onboard new users into the Huddle experience. New parents and Huddle hosts can learn how a Huddle works, pick a theme for their Huddle, and add-on any desired party decorations and set up their registry (shown above). Users can choose have Huddle take care of everything from planning to execution, or choose to only use the basic elements of the system and plan the rest themselves.
See our Invision prototype here (requires an Invision account to access).
The Toolkit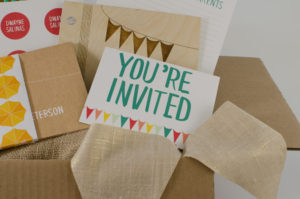 The toolkit provides users with the items they need to host a Huddle. The standard Huddle toolkit contains four items: invitations, a poster, personalized sticker cards for each guest, and advice cards with a keepsake book, all of which are customized to a user's selected theme. Any add-on decorations selected by the user will be included in the box as well.
The Poster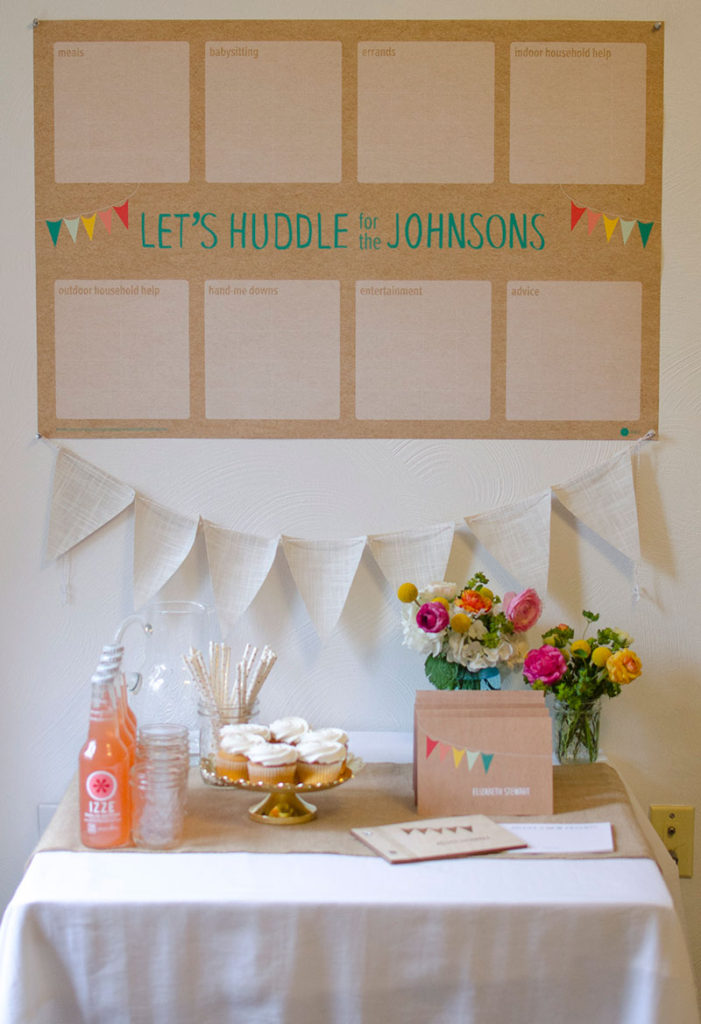 The poster and accompanying stickers are cornerstone of the system and are designed to facilitate an activity where guests pledge acts of service for the new parents. Guests place stickers in the registry category boxes, and these pledges are recorded and stored the Huddle app.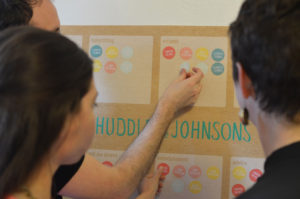 The Sticker Cards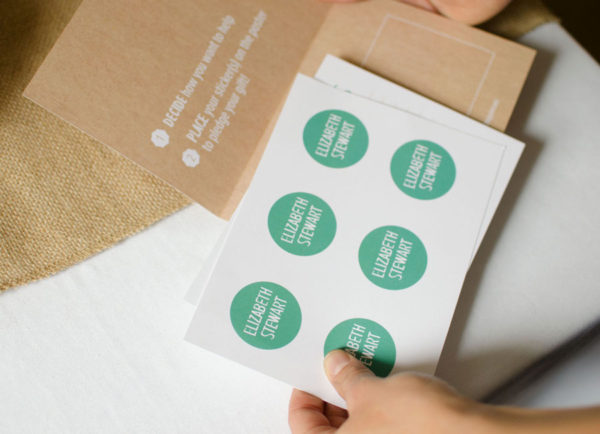 Each guest receives a card with their name on the front, with customized stickers inside, plus instructions for how to use the stickers and a place to record the pledges they make.
The Advice Book

We wanted to honor the tradition of passing on advice at the shower with Advice Cards that guests can use to write notes to the new parents. The new parents can then keep these Advice Cards in a Keepsake Book.
The Invitations

Huddle invitations can be sent as paper invitations or evites (not currently developed), and serve the dual purpose of inviting friends & family to the shower and prompting them to download the Huddle App.
The App

The Huddle app is the quarterback of the Huddle system. It is the hub for organizing and scheduling guest pledges and keeps everyone informed and engaged in the weeks and months after a Huddle party.
The Launch screen is shown here, click here for Invision prototype.
Problem Space
Babies are expensive and they need a lot of stuff. New families spend an average of $12,000 and up to $30,000 outfitting their homes for a new baby in the first year of life, and that number is repeated and increased every year thereafter. Yet in hindsight, many parents complain that they bought too many items, used expensive items only once or twice, or their baby's preferences didn't align with particular products. Unwanted items must then be discarded, stored, donated, or resold, adding additional burden to a new parent's everyday life and household logistics. New parents are often overwhelmed by figuring out what items are necessary, optional, or just nice-to-have for their new babies. Could this be an opportunity for improvement?
Exploratory Research

We wanted to research the planning, buying, and sustainability practices of parents-to-be, new parents, and veteran parents to understand how they make decisions about what products to obtain for a new baby, how and when they use the products, their emotional attachment to said products, and finally what they do with the products as the child grows out of them. In addition to the interviews, survey, shopping trip and home visit, we also did internet eavesdropping, comparative research of parenting-focused startups, analagous research of box- and subscription-based services, and looked at consumer habits for the Millennial generation.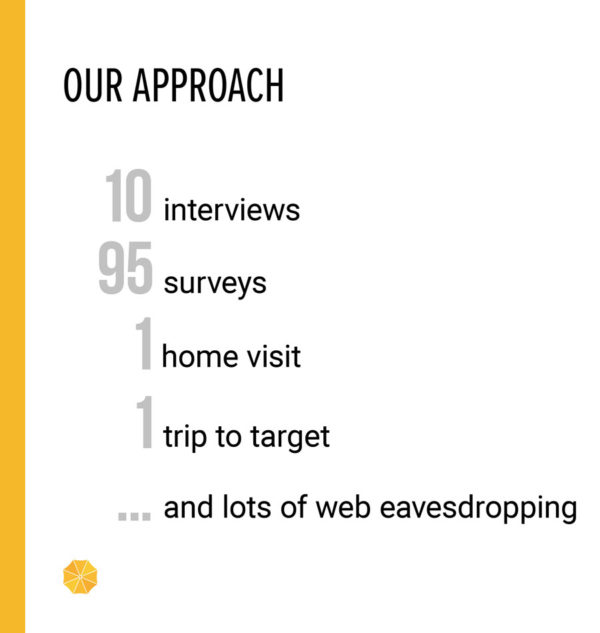 Synthesis
In order to determine takeaways, next steps and develop our design principles, we did a card-sort exercise using themes and quotes pulled from our interviews, surveys and site visit. From the categories that developed, we distilled a few take-aways for each category.
How might we…
Make planning and accessing baby gear easier, less expensive, stressful, and wasteful?
Connect new parents to better information about what gear they need and provide support for better decision making on baby-related purchases?
Foster a sense of place-based community between new parents in a way that enables sharing of information, education, support, and collaborative consumption?
Design Principles
Just

when

you need it

Access

over ownership
Stand on the shoulders of

sharing

Bridges

communities
Concept Development
With our design principles in mind, we began brainstorming solutions for the pain points we had heard over and over. From there, we synthesized our various ideas into four categories, with a total of seven different ecosystem concepts.
Concept Evaluation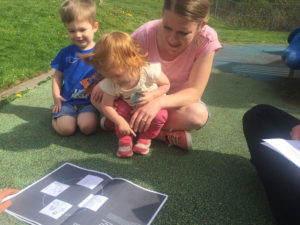 Next, we had four in-person evaluative sessions and one via phone call. We used a speed-dating exercise to quickly show the parents all seven concepts, and then asked for their feedback and favorites. To our surprise, each parent or couple had very different opinions about which of the concepts they liked best, and there was no clear "winner".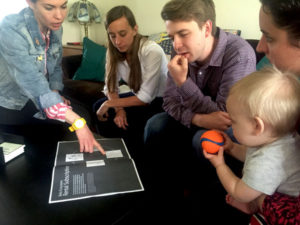 Initially, we attempted to solve all of the pain points and create a service which would help all of the parents we spoke to: a service which would combine a box subscription service, a rental service for big ticket items, a gift registry that would accommodate used items, and also a toolkit for having a supportive baby shower.
Concept Refining and Rescoping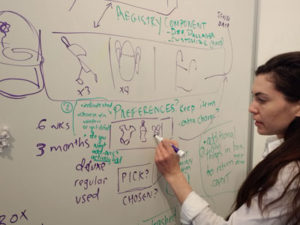 Quickly we realized that this concept was not only large and complex, but also that various components wouldn't work well together. We needed to cut back.
During our conversation, we realized that many of the pain points, and thus our solutions, began during the baby shower. Almost every mom we had spoken to had mentioned her dislike of showers, but that she felt obligated to have one for her mother's sake. Once the mom-to-be agreed to have a shower, the decision-making involved in setting up a registry opened the floodgates of research and overwhelm. Ultimately, many of the families who had showers ended up with only some of the items they had asked for via the registry, plus many other items they didn't need, or duplicates of the same items. This all-or-none gift-giving model means that items the baby won't be able to use until much later in life are given to the parents at the shower, and then must be stored until later on.
With all of these issues in mind, we decided to focus our concept on the baby shower, and a "reinvention" which would shift the priority of a shower from gifts to acts of support. This concept also worked well with our design principles of "Stand on the shoulders of sharing" and "Bridges communities". Although our concept does not address gear directly, we make space and connections to enable hand-me-downs and encourage new practices around gift-giving.
Insight:
It all starts with the baby shower.
Conclusions
The process of creating Huddle began with many assumptions about what we might possibly make. We thought rent-the-runway for babies was in the cards for us, but research showed us that there is often a more interesting and more impactful root-cause of a problem. Evaluating and exploring different concepts allowed us to reframe the problem and look at it from a lens of changing practices rather than trying to slowly shift an existing paradigm.
If we did it all again, we would love to be able to host a real Huddle to test the concept with users. We would also do more evaluative testing of the app to see if people would actually be willing to download the app, and we would love to see how and with whom the concept would be adopted.